Welcome!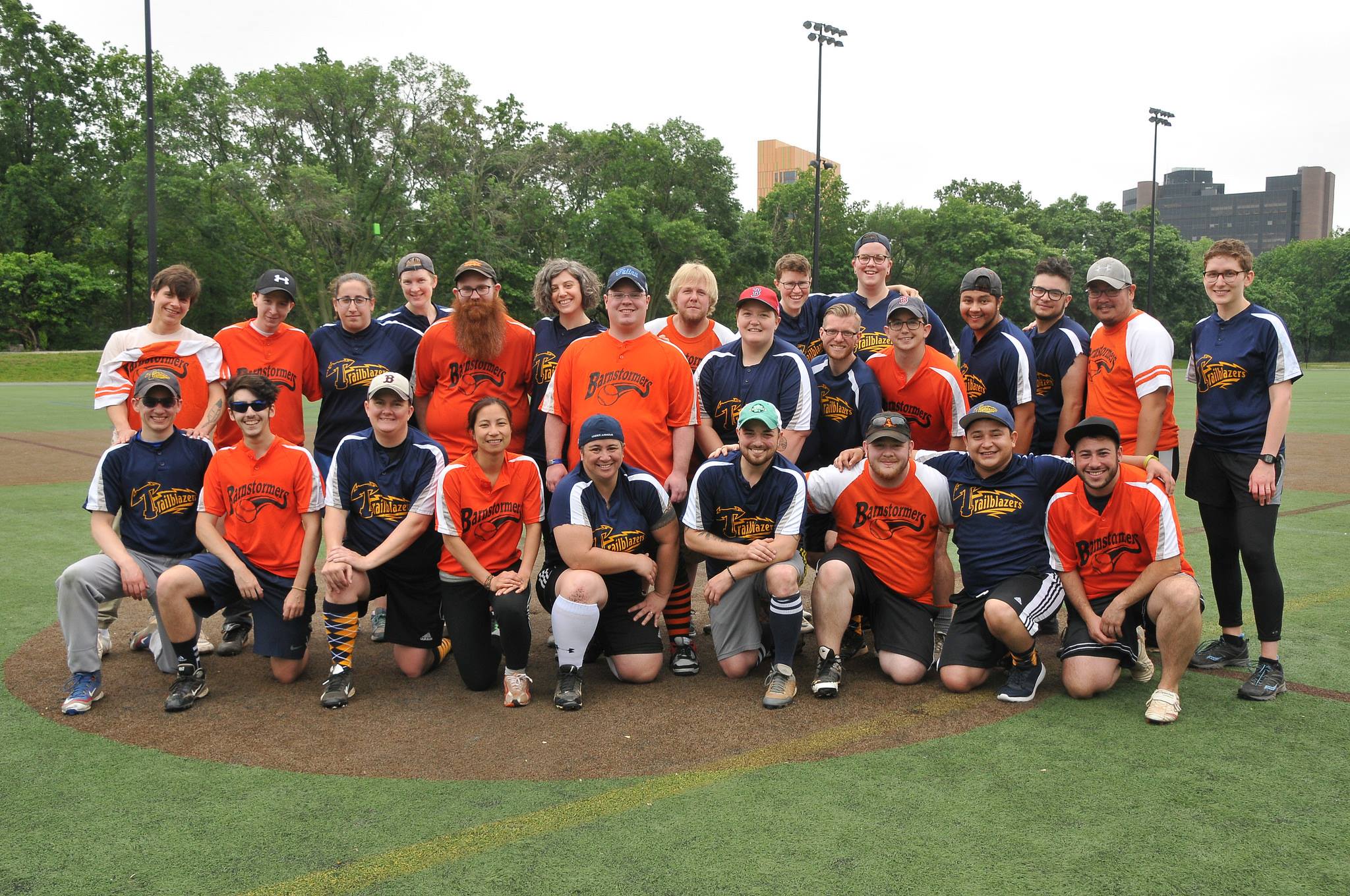 Trailblazers and Barnstormers joint team photo, 17 June 2017.
(Back row: Johnny, Alex, Caden, Carmen, Ethan K, Simona, Erik, Loren, Whitney, Katie O, Evan, Katie E, Graham, James, Joha, Maxwell, Julian.
Front row: Ethan T, Ryan, Sawyer, Jenny, Kimeee, Robbie, Aiden, Damián, Asher.
Not pictured: Aimee, Annie, Caitlin, CJ, Courtney, Ethan S, Harmony, Kim, M, Merric, Michael, Scooby, Wesley, Zach.)
Our Mission:
We are a softball team dedicated to creating a fun and safe space for gender non-conforming and trans people.
We recognize that these and other groups have been systemically denied access to organized sports; therefore we welcome people of all skill levels and backgrounds.
We believe a safe space is critical to the well-being of ourselves and our larger community.
Want to learn more about us? Check out our
FAQ
!
News:
The 2019 season has begun! See here for our game schedule and league standings. Under the "View By Team" drop-down menu, select Trailblazers or Barnstormers.
Older News:
The Trailblazers finished out the 2016 season with seven wins - their most wins ever after nine seasons together - and third in their division, which is their best ever ranking!
We were featured in Original Plumbing magazine in 2012, with an article written by a member of the Trailblazers! See the article here.
The Barnstormers had a great inaugural season in 2012! They won four games - an impressive showing for a brand-new team!
After three years of solid defeats, the Trailblazers won their first game on 08 May 2011! We had some excellent fielding against the Ramrod Rangers, and finished the game with a 1-2-3 inning followed by a grand slam by Ray to close out the game with a 13-9 win! All players present signed the game ball, which will be shared and cared for by team members forever.
We play with Beantown Softball League in Boston, MA.

We're on Facebook! Check us out at Trailblazers/Barnstormers.
Go Blazers! Go Stormers! We are sports transformers!!!
This page was last updated on 14 April 2019.